IMPORTANT: READ ALL SECTIONS BEFORE YOU START
Prior to installing any composite decking, it is recommended that you check with local building codes for any special requirements or restrictions. The diagrams and illustrations outline in this guide are for illustration purposes only and are not meant or implied to replace a licenced professional. Any use of Senlue products must be in line with all local building codes. The consumers assume all risks and liability associated with the construction and use of Senlue products.
Safety
As with any construction project, you should wear proper protective clothing and safety equipment. Senlue WPC products are heavier and more flexible than wood. Do not try to lift similar quantities of Senlue boards as you would normally lift of wood. It is good practice to wear safety glasses, gloves, a dust mask and long sleeves, particularly when cutting our products in confined spaces.
Tools
Senlue composites can be cut and manipulated with standard woodworking tools. Intricate shapes, profiles and patterns are possible with Senlue. For most installations no special tools will be required. However we recommend using carbide tipped blades.
It is strictly prohibited to use hollow decking that's been cut diagonally or parallel to the board as it does not hold as much load as when it's cut at a 90 degree angle, please use solid decking if it needed to be cut diagonally or parallel to the board.
Storage & Handling
Please note that boards must always be stacked, piled and placed on a flat surface or on a close boarded, full length pallet with bearer centers of 500mm or less. Where joists are being used in stacking, support joists should be placed perpendicular to the WPC products and these boards must also be supported on a level plane. No more than 100mm of the WPC product should be overhanging unsupported. Please avoid dragging and pulling when transferring the boards, as this may damage or scratch their surfaces. If boards are to be stored outdoor over a long period of time, they should be stored in a cool dry area away from sunlight.
Structural
Senlue WPC outdoor decking boards are not advised for use as professional structural construction materials, and should not be used in place of: building frame, building planks or components of other load-bearing products.
Ventilation
Senlue products CANNOT be directly installed onto a flat surface. It must be installed onto a substructure, so there is adequate and unobstructed air flow under the decking to prevent excessive water absorption. A minimum of 20mm of continuous net free area under the decking surface is required for adequate ventilation on all decking so air can circulate between adjacent members to promote drainage and drying.
Fastening
When fastening Senlue clips, all screws should always be drilled onto the centre solid part of the joist at a 90 degree angle to achieve a maximum grip
All fasteners should be on their own independent joists, there must be a sister joist where the end of two boards meet. The end of each board must be fastened on its own joist with separate clips.
Spacing
Gapping rules are required when installing Senlue decking:
Type of Gap 间隙类型

Above 4.5°C

Below 4.5°C

6mm

10mm

4mm

5mm

3mm

5mm

Abutting Solid Objects 
6mm

13mm
Step by Step Installation Guide: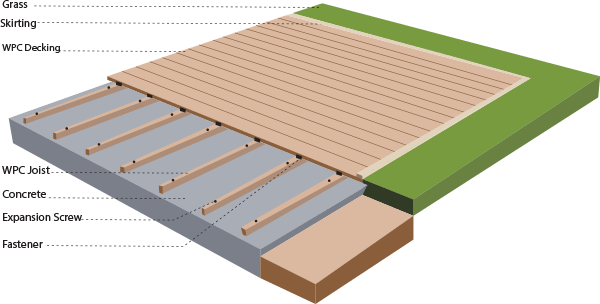 1- Make sure the surface where you are going to layer the joists and decking is completely leveled;
2- Calculate the decking span, that is, how far apart your joists will be. Adequate spacing of the joists is required to keep the deck boards from bending. Please refer to the below charts for spacing required;
Maximum Decking Span (Centre-to-Centre of joist)

Product

Residential

Public Area

DE 115-19 SH

115*19 single-surfaced hollow decking

250mm

n/a

DE 145*21 RH

145-21 single-surfaced hollow decking

200mm

n/a

All other hollow decking models
300-350mm

n/a

All other solid decking models

350mm

300mm
Joist Spanning with Angled Decking Installation (Centre-to-Centre of Decking)

Angle 

Spacing

90

Refer to the above table

60

50mm less than the above table

45

100mm less than the above table

30

1/2 distance as the above table
For applications in public area it is recommended to consult local building code official for specific requirements.
3- When installing your decking, the first and the last board of your project will need to use a start/end clip. All other board will require our hidden fastener for this installation.
Start/end clip installation:
a) Fix the starting clip onto the joist as shown below:
B) Take your first board and push it into the starting clip as shown below:
4) Slide all clips into the grooves of the boards;
5) Fasten all clips from above by drilling screws into the middle of the joist;
6) Place the next board by pushing it in;
7) Seal the edges with skirting/end caps.
7.1) Skirting Installation
The distance between the screws must be equal to or less than 300mm and two screws must be used at each section.
7.2) End Cap installation
Place the end caps in front of the holes of the hollow boards and push in.
Senlue WPC Care and Cleaning Guide
All exterior building materials require cleaning. Generally, soap and water is all that is required to clean Senlue WPC products. For further information, see below.
| | |
| --- | --- |
| Problem | Solution |
| Dirt and Debris | The affected area should be sprayed off with a hose to remove surface debris. Use warm soapy water and a soft bristle brush to remove dirt and debris from the embossing pattern. |
| Hard Water Staining | Hard water is water with a high amount of mineral deposits like lime, silica and calcium. When the water dries, deposits are left behind, leaving unsightly spots on surfaces. This is not a defect of Senlue products but an issue with the water itself. Generally these deposits can be cleaned with white vinegar. Rinsing is required so care should be taken to not use hard water for this purpose, and if it must be used, dry with a cloth or use a blower to dry surfaces. |
| Ice and Snow | A plastic shovel may be used to remove snow from the deck. Use calcium chloride or rock salt to melt the snow and ice from the deck surface. |
| Oil, Grease, and Food | All food spills should be removed as soon as possible. To remove, spray off with a hose and use warm, soapy water and a soft bristle brush to remove spills from the embossing pattern. |
| Mold and Mildew | If debris such as pollen and dirt is allowed to remain on the deck surface, mold can feed on the biofilm. Using a hose and warm, soapy water with a soft bristle brush is recommended to remove the food source and mold. |
| Using a Pressure Washer (Concrete, Stucco, or Ground-in Construction Dirt) | A pressure washer with no greater than 3100 psi that has a fan attachment/ adjustment and soap dispenser may be used to remove dirt, concrete dust, or other types of construction dirt. Spray deck with soap, then follow by gently scrubbing each deck board with a soft bristle brush. Spray/rinse each individual deck board using a fan tip no closer than 8-in (203 mm) from the decking surface. RINSE THOROUGHLY. If dirty water from cleaning is left to dry, this will cause a film to remain on the decking surface. |
Any deviation from this installation guide and the non use of Senlue products including accessories (all clips and screws) could result in the voiding of the Senlue warranty.